WAREHOUSE & STORAGE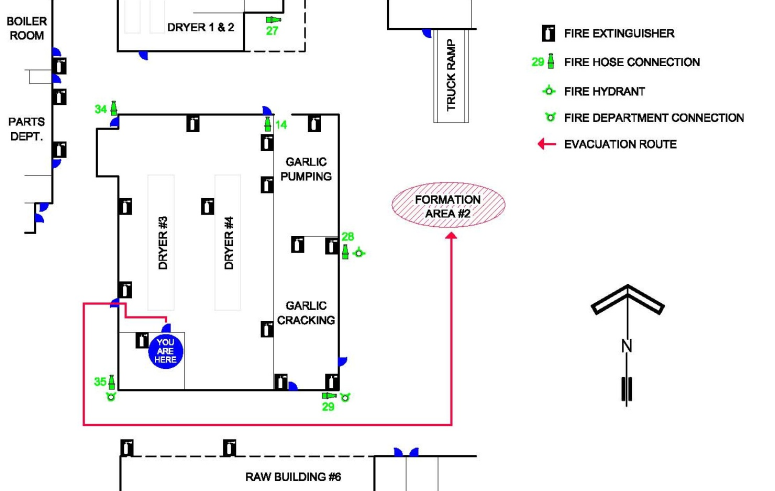 Industry Type:´┐ŻBulk Onion & Garlic Powder Warehouse
Project Description:´┐ŻSafety Signage
Disciplines Involved:´┐ŻSafety, Survey, Signage
There are 4 large warehouses and several production buildings that needed an upgrade to the safety signage. Cadmaster Tech was contracted to perform a safety survey to verify all exit signs, safety showers, defibrillator units, fire extinguishers, fire risers, fire hoses, locked doors, and danger areas in need of signage. We created a master site map showing all the site safety features and evacuation areas. We also updated all of the wall safety signs showing exit routs and safety equipment locations.
Key Project Responsibilities and Skills:
Safety Walk
Survey
Signage
---
Industry Type:´┐ŻWarehouse Distribution Facility
Project Description: Warehouse Feasibility
Disciplines Involved:´┐ŻFacilities Planning
The large number of operating fork lifts at any given time has led to inefficiencies in stacking product for short term storage. A feasibility study was performed to find more storage capacity while being able to move large amounts of product in a short period of time. It was discovered that creating shorter isles with less stack distance lead to more efficient storage. Isles were added to improve forklift movement and stack distance was reduced. Overall storage space was reduced to gain more accessible short term storage giving the warehouse a 15% increase in real usable storage.
Key Project Responsibilities and Skills:
Feasibility Study
Traffic Study
Site Planning